Podcast: Play in new window | Download
Fire it up on: Apple Podcasts | Google Podcasts | Stitcher | RSS | More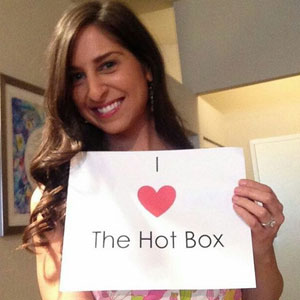 On today's episode of the Hot Box we have a fantastic chat with Molly Peckler from Highly Devoted. Molly is the dating coach and relationship expert the cannabis community has been waiting for, and after hearing our discussion, you'll know why. I also want to give a huge thanks to all of our supporters giving us cool stuff to give away. The Vuber Atlas give away has come and gone, and the two winners have been notified. I know you both will love the Atlas as much as I do. I should also mention Herb Boxx for giving us an awesome, elegant box to keep our weed stuff in.
I also want to give a shout to all the pretty stoner ladies on Instagram sending us their #HotBoxPodcast fansigns! Keep them coming! We have a bunch of great interviews coming up, as well as some regular episodes where I get stoned and talk to friends about cannabis. Thanks for listening, and stay tuned for more awesome marijuana love.
Let's give a huge Hot Box welcome to Molly Peckler. Molly has a background as an executive match maker, and a cannabis consultant. Molly's experience and emotional intelligence, along with her degree in Psychology, have given her a one-of-a-kind perspective. She loves helping other pot enthusiasts, and offers private, confidential 30 to 50 minute coaching sessions over Skype. Check out more information at her site Highly Devoted.
Check this out! Molly is hooking up everyone in the Hot Box family with a huge discount to see if this sort of one on one coaching is what you need in your life. If you are struggling in the relationship department, I highly recommend talking to Molly and letting her get you on the right path. Be sure to hit up HighlyDevoted.com or email Molly@highlydevoted.com to get the ball rolling.
Mention the Hot Box during the consultation and you'll get 25% off! Also be sure to send in your one off stoner relationship questions and we'll get Molly to come back on the show and answer them!
Let's take a quick look at some the weed I've been reviewing on Stuff Stoners Like. Animal Cookies, Space Queen, Deep Purple Kush, and Barbara Bud. These are just a few of my favorite things.
I also want to mention I think it's totally awesome that our friends at Trees.Delivery got some press this week. It was a delight to open up my Mashable weekly catch up email and see an article about them right at the very top. Keep up the good work!
That's it for this episode. Please be sure to write us a review on iTunes if that's how you subscribe. You can also check us out on Stitcher! If you have any thoughts to share with us, call and leave us a message at 406.204.4687 or send us a form. Thanks again for listening!
Be sure to send us your sexy stoner fan sign to get featured on the Hot Box! Hit me up on Instagram or email info@hotboxpodcast.com with it. That's right, we're bringing fan signs back.
Check out the live hangout video below. Make sure to add the Hot Box page and subscribe to the new channel on YouTube. We no longer post on the OLD Hot Box CHANNEL. Subscribe to the NEW ONE please. Thanks for checking out the show.